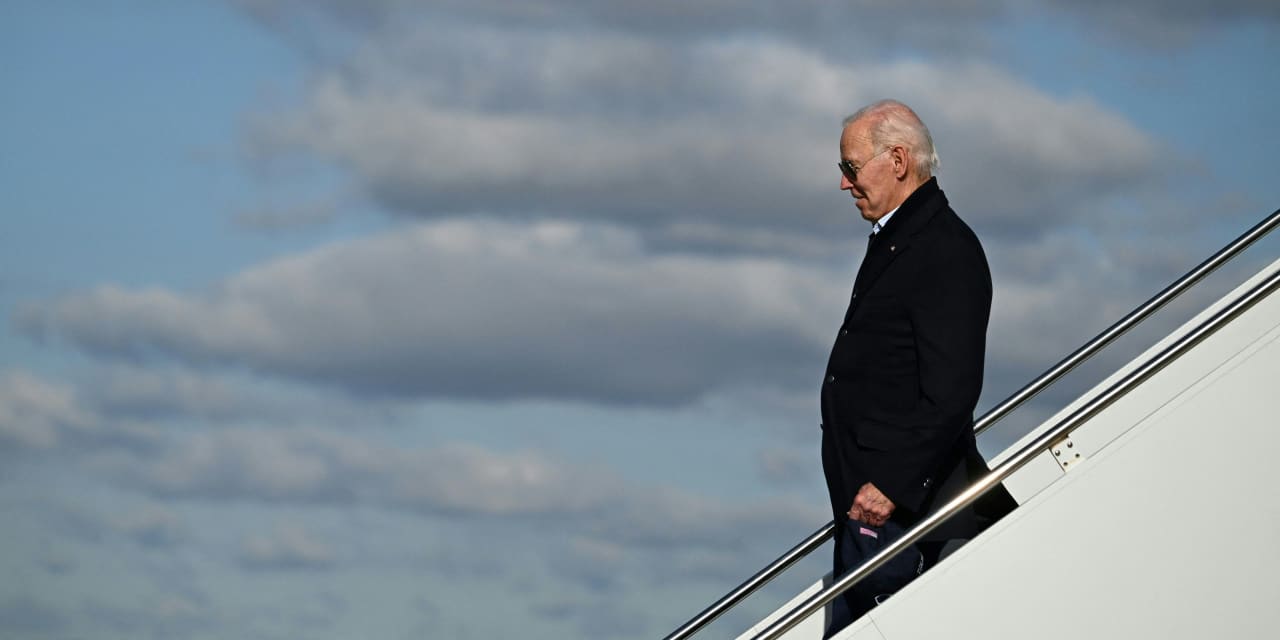 President Joe Biden talked up his administration's achievements on Friday as he marked two years in office, delivering a speech at the White House to a bipartisan group of mayors visiting Washington, D.C., for an annual meeting.
He said when his term began, the COVID-19 pandemic "was raging, our economy was reeling, but we acted together."
"Now, two years in, it's clearer than ever that our plan is working. We're building the economy from the bottom up and the middle out, not just the top down," the president said.
In his address, he highlighted accomplishments such as March 2021's COVID relief package (called the American Rescue Plan), July 2022's Chips and Science Act and August 2022's climate and healthcare package (dubbed the Inflation Reduction Act), as well as November 2021's infrastructure law and June 2022's landmark gun measure.
Biden didn't mention how the U.S. stock market has fared during his first two years as president, a decision that makes sense given that the S&P 500 index
SPX,
+1.89%
is up just 1.2% since his inauguration on Jan. 20, 2021, while the Dow Jones Industrial Average
DJIA,
+1.00%
has gained 6%.
That ranks as the weakest equity-market performance for the first two years of a presidential term since George W. Bush, who saw the S&P 500 dive 32.8% following his inauguration on Jan. 20, 2001, while the Dow shed 18.9%.
Among just Democratic presidents, Biden's first two years in office rank as the worst equity performance since Jimmy Carter, who saw the S&P fall 3.1% after his inauguration on Jan. 20, 1977, as the Dow dropped 12.7%.
Biden boasted about the performance of U.S. stocks when they were faring better, saying in September 2021 that the equity market had "gone up exponentially since I've been president."
The first two years of presidential terms: How the S&P 500 fared
Ahead of the president's speech, Brian Deese, director of Biden's National Economic Council, argued in a blog post that the president's economic strategy is working after two years of effort.
"Economies around the world including the United States have struggled with pandemic-driven price increases. But we have made important progress in bringing inflation down while maintaining a resilient recovery," Deese wrote. 
"In fact, the United States is better-positioned than other major economies to navigate the transition to steady, stable growth with lower inflation and without giving up all the economic gains we have achieved over the last two years. While there is more work to do, and we may face setbacks along the way, the policy strategy we have executed positions us uniquely well to come out of the pandemic crisis stronger, more resilient, and prosperous for years and decades to come."
The main U.S. stock benchmarks traded higher Friday but were mostly on track for weekly losses.
Now read: Biden team wraps up first two years in White House — here's a look back, by the numbers
And see: More evidence inflation is slowing: Wholesale prices post biggest drop since 2020
Plus: In 2022, U.S. stocks booked their worst year since 2008


This story originally Appeared on marketwatch